Full Potential Audio Creators and Musicians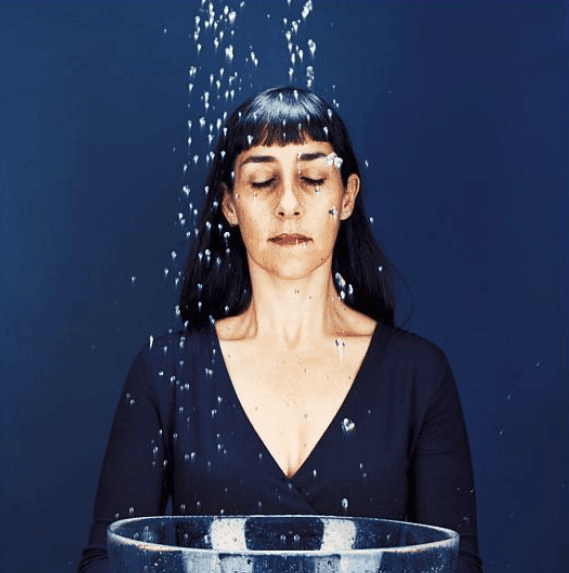 Katie Down
Full Potential Audio Series Sound Designer and Music Therapist Multi-Multi-Instrumentalist
Katie Down, (MT-BC, LCAT) is a licensed creative arts therapist, music psychotherapist, Reiki practitioner, deep listening practitioner, teacher and sound artist. She has been facilitating sound bath meditations and deep listening workshops for over 10 years offering classes, and training programs in music therapy and sound meditation/healing as well as clinical supervision for LCATs, LCSWs, MDs and other creative arts therapists. Katie received her master's degree in Music Psychotherapy at New York University with additional trauma training at the Institute for Contemporary Psychotherapy and with Laurel Parnell in EMDR and Mindfulness Based Stress Reduction with Paulette Graf. Incorporating MBSR, EMDR, and creative visualization for trauma and trauma-related symptoms, Katie provides a nurturing, grounded and open environment for opening the heart and letting go of blockages and negative patterns that hold us back from feeling connected to our higher selves and each other. 
Katie is a staff practitioner and facilitator at MNDFL, Maha Rose Center for Healing and MINKA Brooklyn. She co-runs the Maha Rose Sound School and the Sound Therapy Training Institute at The Center for the Advancement of Therapeutic Arts.   Katie has designed  and taught the courses "Music and Mindfulness in Clinical Applications"  for The Spiegel Academy,  "The Art of Listening" at NYU, and The School of Visual Arts, "Deep Listening Through Sound Meditation"  at Cal State Fullerton, "Sound and Mindfulness in Contemplative Care" at the Art of Healing conference at The Jewish Theological Seminary, The Expressive Arts Therapy Summit, and The International Conference on Deep Listening, and has presented at grand rounds presentations for local NY hospitals.
Katie has worked internationally in the Balkans, South Africa, and Ecuador, offering workshops in improvisation and song writing and has studied with Musicians Without Borders in their Training for Trainers workshop in the Netherlands. She continues to compose and score for theatre and film and received a Drama Desk nomination and award from the Connecticut Critic's Circle for best sound.
For more information go to www.soundwellcenter.com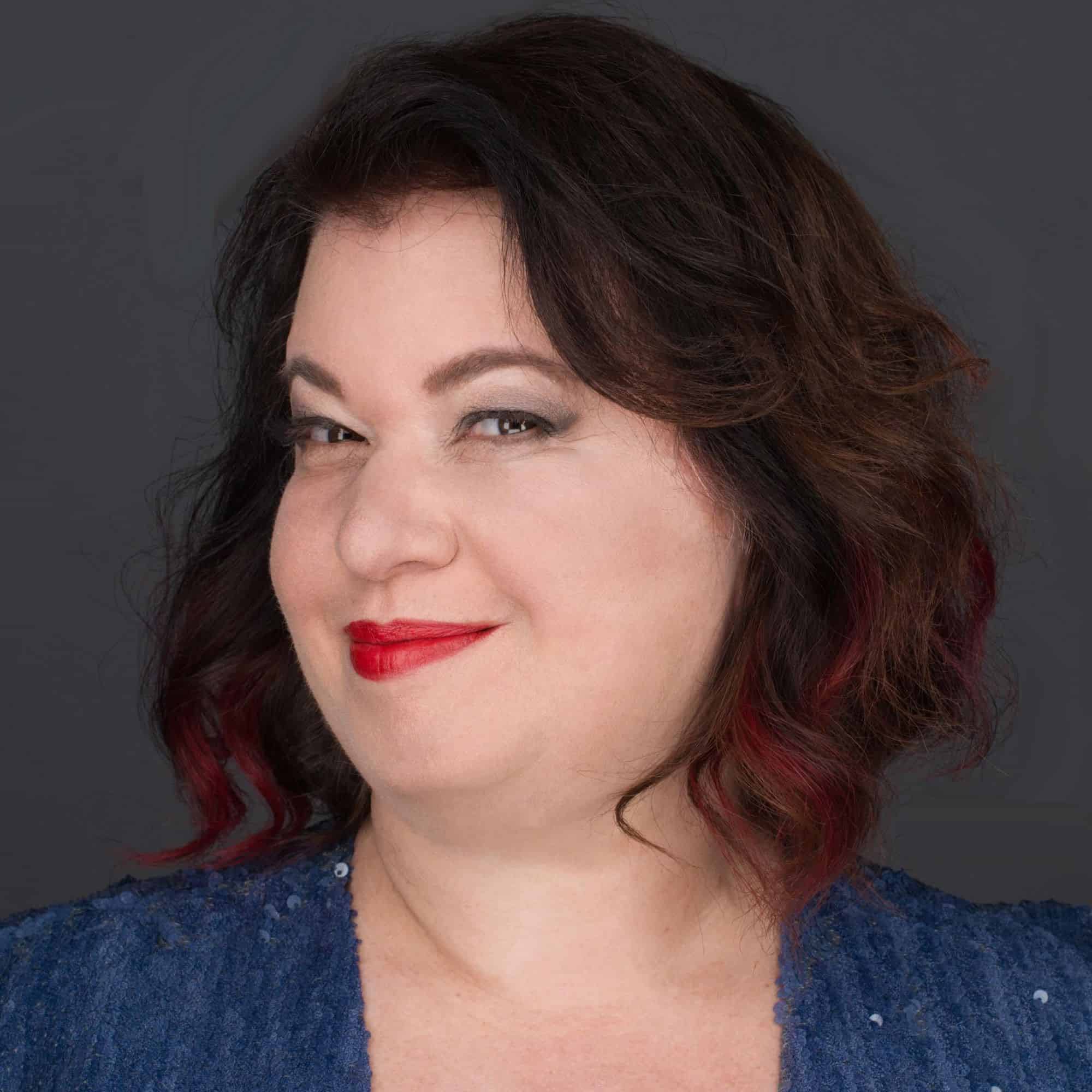 Bara Sapir
Full Potential Audio Series Creator, Orator, Singer. CEO/Founder CTP
Bara Sapir, MA, CHt, CNLP, CEO and Founder of of City Test Prep, created the Full Potential approach based on her extensive experience working as a master test prep tutor, an artist, and musican. She founded CTP, Test Prep New York, and Test Prep San Francisco, providing full service tutoring that incorporates holistic and mindful services for students who need, beyond content mastery, self-trust, self-worth, composure, focus, and ways to manifest optimal performance. Drawing on her work as a musician and fine artist, she helps students get into the zone to be present when it counts the most – – during high stakes tests or other pivotal life experiences.   Sapir is a trained fine artist and musician, has worked as a professor at Montclair State Univeristy, a designer of interactive children's museums, and was art director for 8 years for Zeek: A Jewish Journal of Thought and Culture. She performed as a vocalist in Adelantre Ladino Ensemble, with Sylvie Diegez at Makor of the 92nd Street Y, and with various local musicans at venues in New York, Boston, and Jerusalem. She's performed in 2 plays written, composed, and directed by Liz Swados. She has studied with various master teachers including Levana Dinerman (Ladino, Jerusalem), Estee Ofri Caanan (Ladino and Arabic, Jerusalem), and Ruth Weider Magan (Voice Technique, Jerusalem). She is a published author and artist, and leads multi-sensory expressive arts workshops. She's an ordained Kohenet and creatrix of creative lifecycle rituals and life cycle events. www.barasapir.com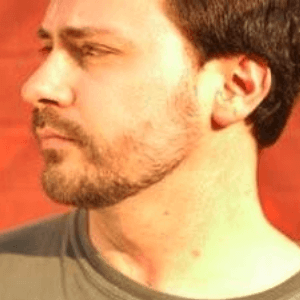 Composer, cellist, and conductor, Paul Brantley is a five-time MacDowell Colony Fellow who has also received fellowships from Banff Centre and The Anderson Center. He has recently enjoyed performances of his music by Horszowski Trio, Flux Quartet, New Esterházy Quartet, and Memphis Symphony. Brantley is currently composing a cello concerto for Eric Jacobsen (The Knights, Silk Road Project) and the University of Michigan Symphony, Kenneth Kiesler, conductor.
He has performed and recorded solo cello with Trey Anastasio (Phish), Cassatt Quartet, Jeff Coffin Mutet, Béla Fleck and the Flecktones, Dave Gregory (XTC), and Jimmy Page and Robert Plant. Brantley has arranged and conducted for David Binney, Ethel, Todd Rundgren, and Christian Scott. He co-founded the Seal Bay Festival of American Music and was artist faculty at Yellow Barn Music Festival for many years. In addition to positions at Syracuse University and Washington and Lee University, Brantley was a Manhattan School of Music faculty member from 2000 to 2014. He was invited to give a composition seminar at Yale University in 2012.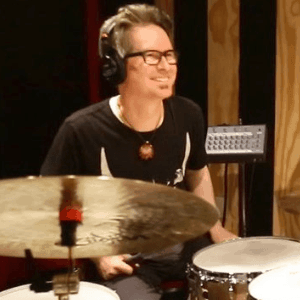 Greg Burrows (percussion) – Greg Burrows is a working jazz drummer in the New York City region. Please visit www.GregBurrows.net  For more info & performance dates.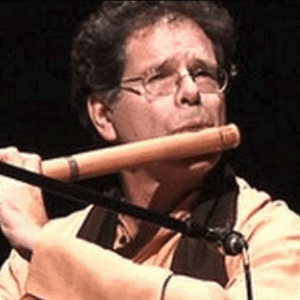 Steve Gorn (born in New York City ) is a master bamboo flautist and saxophone player.  Gorn has performed Indian classical music,  jazz and new American music on the bansuri bamboo flute and soprano saxophone in concerts and festivals throughout the world. A disciple of the late bansuri master, Sri Gour Goswami of Calcutta, he has been praised by critics and leading Indian musicians as one of the few westerners recognized to have captured the subtlety and beauty of Indian music.
He also has composed numerous works for theatre, dance and television and has recorded and performed with a wide range of artists including Paul Simon, Tony levin, Jack DeJohnette, Galen Velez, Karl Berger, Kari Berger, Alessandra Belloni, Layne Redmond, Simon Shahen and Mick Karn.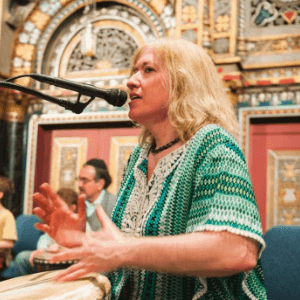 Shoshana Jedwab
Percussion
Shoshana Jedwab is a singer-songwriter, percussionist, worship leader andJewish educator.  Her sacred music is heart-opening, hip-shaking musicthat joyfully grounds body and spirit. The appealing, original songs of Shoshana's 2016 debut album, "I Remember", and her 2018 zipper song single, "Where You Go", emerged from ceremonies Shoshana was leading, and are now being sung, and danced to, in churches, synagogues, mosques, weddings and marches. Shoshana Jedwab was one of Jewish Rock Radio's Jewish Women Who Rock the Worship World.  Shoshana was featured in a documentary about her passion for rhythm and her work training female spiritual leaders. https://www.youtube.com/watch?v=3IAySIBspuQ
Shoshana Jedwab gives concerts, leads worship and drum circles, and has performed in Germany, the UK, and the USA. www.shoshanajedwab.com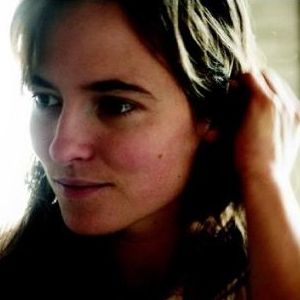 Dawn Landes
Sound Engineer/Mixer
Dawn Landes (born December 5, 1980) is an American singer-songwriter, musician and highly sought out engineer. She is originally from around Louisville, Kentucy  but spent many years living and performing in Brooklyn, New York. As a recording artist she has released five full-length albums: dawn's music (2005), Fireproof (2008), Sweetheart Rodeo (2010), Bluebird (2014) and Meet Me At The River (2018) as well as five EPs: Straight Lines (2006), Two Three Four (2006), Mal Habillée (2012), Covers EP (2014) and Desert Songs (2015).[1] In support of her releases, Landes has toured extensively in the US, Europe and around the world, often sharing the stage with artists such as Ray Lamontagne, Feist, Andrew Bird, José González, The Weakerthans, Midlake, Suzanne Vega, and Sufjan Stevens. Landes was once married to musician Josh Ritter, with whom she also toured. She is now married to songwriter and musician Creighton Irons, with whom she has a daughter, Callan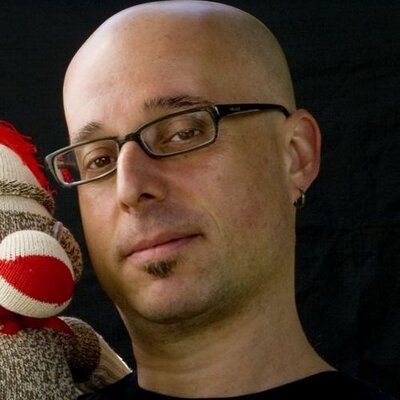 Jeffrey Lependorf
Shakuhachi
Jeffrey Lependorf is a composer and a certified master of the shakuhachi, a traditional Japanese bamboo flute. His music has been performed around the globe—literally, in fact: a recording of his Night Pond for solo shakuhachi was launched into space when the shuttle Atlantis took off on May 15, 1997 and remained for a year aboard the Russian space station Mir. A nationally recognized arts leader, he serves as shared Executive Director to America's two national service organizations for independent literary publishing, created and directs the Art Omi: Music international residency program for musicians interested in collaboration, and consults to a variety of arts organizations in matters of strategic planning, fundraising, marketing and innovation. Recently, he has also made a return to a first love—visual art—focusing on producing collage works. 
Much of his music composition in recent years draws on canonical musical works used both as filter and raw material—in his operas, often fused with meticulous transcriptions of actual speech—drawing multiple layers of meanings from these disparate materials. Drawn also to the artistic possibilities inherent through collaboration, he has worked with a number of other artists. Together with longtime collaborator poet/performance-artist Jeffrey Jullich, he appeared as one half of Cabaret of Cruelty, the "Post-Artaud, Pseudo-Butoh, Performing Duo," at places such as The Kitchen and HERE; their song I Shall Kill Salman Rushdie the Blasphemer appears in Charles Bernstein's anthology, "Patterns, Context, Time." He has also collaborated extensively with sculptor/film-maker Luca Buvoli on a series of music, film and installation projects. His score for Buvoli's "Not-a-Superhero: Wherever You Are Not" received two weeks of repeat performances in the Piazza San Marco in conjunction with its showing at the Venice Biennale; installation work with Buvoli has also shown at places such as the Queens Museum of Art and Philadelphia Museum of Art. The "half-seated" cantata, If I Could Stand, If I Could Sit, or, Oh, Bill, Oh, Susan, his collaboration with downtown theater artist Stuart Sherman, opened the first Downtown Arts Festival in SoHo, New York and was performed with live simultaneous video feed (a rare occurrence at the time) to STEIM in Amsterdam. Recordings of some of his work are available on labels including Ayler and Sachimay, and through iTunes, Amazon.com and Spotify. He performs regularly on a variety of Asian bamboo flutes, including shakuhachi, xiao, bawu, hulusi and tanso, appearing most frequently as a member of the NewBorn Trio. His most recent works for shakuhachi explore compositions that incorporate improvisation within structured frameworks experimenting with proportion, appropriation and interplay.
Born in 1962 in Philadelphia, Jeffrey Lependorf received a doctorate and masters in music composition from Columbia University and his undergraduate degree from Oberlin Conservatory. He also received the venerable honorific name "Koku" ("empty nothingness") from Kinko shakuhachi master Yoshinobu Taniguchi. His "Masterpieces of Western Music" audio-course is available through Barnes & Noble's "Portable Professor" series as well as for download through Audible.com. He currently serves as Director of the Art Omi: Music international collaborative music-making residency in upstate New York, and also serves as the shared Executive Director of two national literary arts service organizations: Small Press Distribution and the Community of Literary Magazines and Presses.
He has received support from the Jerome Foundation, USArtists International, Meet the Composer, New Dramatists Compost-Librettist Studio, Harvestworks A.I.R Program, Margaret Jory Fairbank Copying Assistance Program of the American Music Center, Blue Mountain Center, Art Omi International Arts Center, Millay Colony for the Arts, American Opera Projects Helping Hands, National Opera Association, National Endowment for the Humanities, New York State Council on the Arts, Polish Cultural Institute, US Embassy in Kosovo, N1 Foundation, Olis Foundation, City of Munich, and the Arch and Bruce Brown Foundation. He has performed and had works performed across the United States, in Austria, Germany, Iceland, Ireland, Italy, Japan, Kosovo, Liechtenstein and Switzerland by such groups as the The Knights, Cassatt Quartet, Seattle Creative Orchestra, Belvoir Quartet, New Renaissance Chamber Artists, New Calliope Singers and others, at such venues as Brooklyn Academy of Music, Music at the Anthology, Dance Theater Workshop, Symphony Space, The Vineyard Theatre, Philadelphia Museum of Art, Hudson Opera House, Cornelia Street Café, Miller Theatre, Knitting Factory, Merce Cunningham Studio, Wexford Arts Center, ABC no Rio, Roulette, The Stone, New York International Fringe Festival, Yale Repertory Theatre, Museum of Arts and Design, Documenta, and the Brooklyn Academy of Music Next Wave Festival.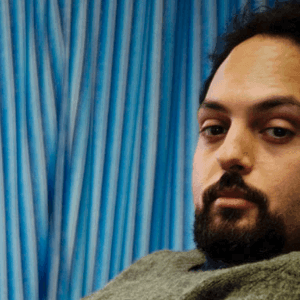 Adam Matta
Beatbox rhythms
Adam Matta is a beatboxer and vocal performance artist from New York City. Appeared with Bobby McFerrin at Carnegie Hall and with The Carolina Chocolate Drops, appearing on their Grammy-nominated album, Leaving Eden, and on the Hunger Games Soundtrack. Headlined 2009 UK Human Beatbox Convention, Joe's Pub, BAMCafe, La Mama, Telfair Museum, Dartmouth College, New Museum for Contemporary Art and Here Arts Center. Featured on PBS, Showtime, CUNY-TV, WNYE and NPR. Music appears on The L Word, Season II: Sessions (Tommy Boy), and in documentary, Planet B-Boy. Artist in Residence at Cornell University, Digital Performance Institute, Here Arts Center, League of Electronic Musical Urban Robots, School of Visual Arts' Visible Futures Lab.  Appeared with Daniel Beaty, Akim Funk Buddha, Aaron Comess, Cornell Chamber Orchestra, Nihan Devecioglu, Cenk Erdogan, Fireworks Ensemble, David Fiuczynski, Reg E Gaines, Karsh Kale, Eyal Maoz, Todd Reynolds, Hank Roberts, Sxip Shirey, Shara Worden, Bora Yoon. Released app integrating his art and music through Gralbum Collective, available in the Apple Store. Taught beatboxing to blind and multiply disabled youth at Lavelle School for the Blind in the Bronx, with BEATNYC.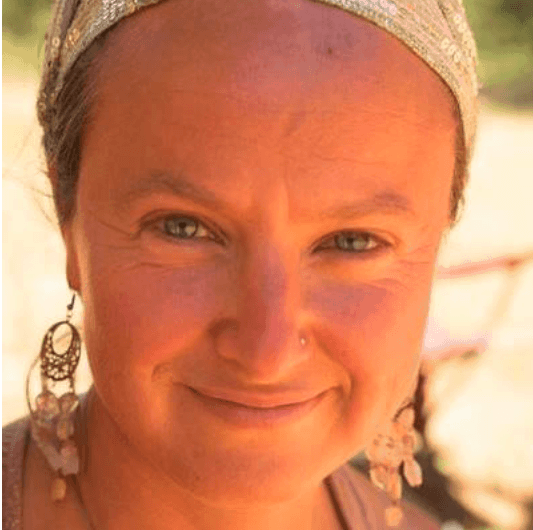 Joti Shephi is a long time searcher, adventurer and edge walker of life. She honors all sides of life including the deep joy and grief that are essential in our human experience. She holds impeccable neutral space for others as they walk through life's transitions and changes.
In 2014, she helped facilitate and structure the Tree of Life Initiation for Women, a program that guides women to clear their lifelines, gives them access to tools and practices for a balanced life, and guides them to claim their adult selves through a community held rites-of-passage ceremony. As an outgrowth of  this intensive one-year journey, she created Wings of Water and has been offering these one-on-one and group workshops  to hundreds of people throughout the United States and abroad.
She is currently becoming certified as a Neuro-Linguistic Programmer through NLP Marin where she is enhancing her capacity to help humans become more human. She has practiced and studied several different religions and attained a Masters Degree in Jewish Education. She is currently a garden educator in a Waldorf inspired Charter and debuted her first CD "Legacy". Joti is also a rock climber and likes to stay adventurous and playful in all aspects of her life.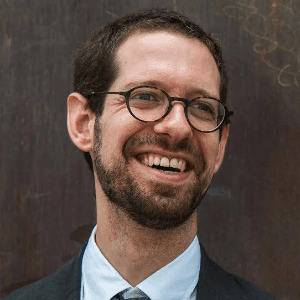 Included among the Village Voice's "Best of New York," percussionist Jonathan Singer has been praised for his "superb four-mallet technique" (New York Times) and described as an "artistic assault on the sensory order of nitrous oxide." His solo appearances include performances with the Detroit Symphony and Grammy-winning Nighthawks. As the leader of the Brooklyn-based novelty band, Xylopholks, Singer has performed across the United States, India, Japan, Brazil, and Canada and on the stages of Alice Tully Hall, City Center, 92nd Y, and the Metropolitan Museum of Art. He has been heard on WNYC, Air America, and made on-screen appearances in Boardwalk Empire, Royal Pains, and David Grubin's Downtown Express. Singer is the recipient of a Fulbright Fellowship and Queens College grant to study in India. Presently an Adjunct Assistant Professor at the College of Staten Island and Queensborough Community College, Singer has had previous appointments at Brooklyn College and Queens College. Since 2013, Singer has taught xylophone performance and improvisation at the University of Delaware Xylophone Institute. Singer is a graduate of the Interlochen Arts Academy, Berklee College of Music, Queens College and CUNY Graduate Center, where he earned a doctorate with a dissertation focusing on improvised xylophone music.  An endorser of the Malletech company, he helped design the Jon Singer signature xylophone mallet.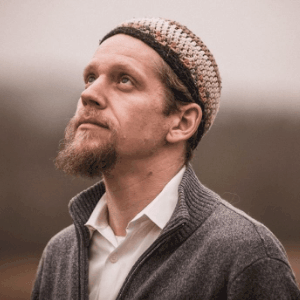 Shir Yaakov
Vocals, free style
Shir Yaakov is a singer, composer, designer, producer, teacher and Aba. Shir engages Jewish, multi-faith, and non-affiliated people around the world, building spiritual communities, facilitating and inspiring communal music, and helping people connect with their inner wisdom and truth. He works in formal and informal educational settings as a spiritual leader, teacher, and musician.
Shir Yaakov, his partner Emily,  and their two daughters live in New York's Hudson Valley, where they are helping to weave the Kol Hai community. Kol Hai's Shabbat and Holiday gatherings draw upon Shir Yaakov's extensive experience as a musician, and reflect his unique ability to blend ancient and emerging wisdom to create a spiritual cultural Judaism that is contemporary, alive, and innovative. The music-filled, joyful experiences are held in and around New Paltz, NY and are open to all. 
Shir Yaakov has recorded and released four albums of original music and co-founded and performs with The Darshan Project. His song "Broken-hearted" recently won the Jewish Daily Forward's 2016 Soundtrack of Our Spirit songwriting contest. Professionally, Shir Yaakov has erved as Creative and Music Director for Romemu, New York City's largest Renewal synagogue; Director of Engagement at ALEPH: Alliance for Jewish Renewal; ritual consultant for Eden Village Camp; and visiting faculty at Hebrew College and the Academy for Jewish Religion-NY.
He is a student in the Rabbinic and Spiritual Direction tracks of the ALEPH Ordination Program, a Wexner Graduate Fellow, and serves as a Spirit Holder on the Zen Peacemakers'  Bearing Witness Retreats in Auschwitz-Birkenau.